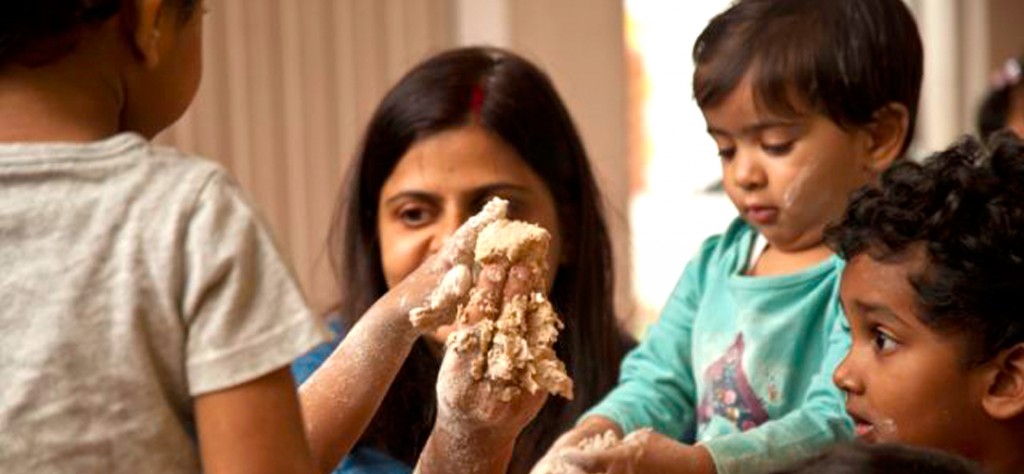 The theatre programme at Early Years has been especially designed for very young children using the basic elements of theatre. It is not a programme to make theatre artists or create actors, instead relying on the sensorial elements of the visual and the aural, the toddler theatre programme seeks to gift an experience of creation through the senses. The pedagogy is to enable a sensorial response to what they see, hear and touch.
We as adults usually conceive the world through text and language, but the child spontaneously experiences the sound of the words and the visual of the text. Encouraging and relying on this instinctive spontaneity of the child, this programme is designed to inculcate awareness of being aware and to be aware of one's senses.
During sessions, the pedagogue consciously alters their everyday space by using one tangible material, inviting and encouraging the children to play, react and respond to the material the way they would like to. They can either participate or just watch. This process allows them to absorb and immerse themselves in what unfolds instantly in front of them. Something happens, visibly or silently. This something is not tangible but experiential. For instance, the touch of dry flour and the visual it creates when one blows it or the transformation they experience in pouring water on it; the experience of responding, reacting and creating. All this brings about an emotional journey and the experience incorporates aspects of the wonderful world of theatre.